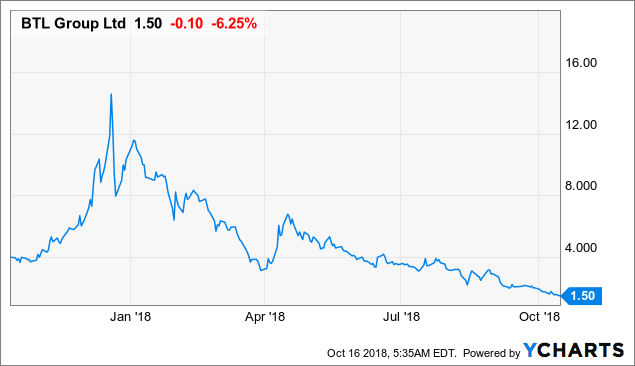 Recent price: $1.50
Worst Case Projected Upside Valuation: $3.36
*BTL Group (OTCPK:BTLLF) is a Canadian company. All information is written as CAD$ or USD$ and will be specified each time. This article focuses on the company's OTC security BTLLF.*
Overview
BTL Group Ltd. is a technology company headquartered in Vancouver, BC Canada and hoping to leverage a first mover advantage as one of the first publicly-traded blockchain technology companies focused on interbank settlement platforms. BTL's customer base consists of enterprises wanting to integrate blockchain technology into their operations.
Interbit is BTL's proprietary development platform. It's designed to be user-friendly and uses already existing tools and computer languages. Developers can efficiently create applications that take advantage of blockchain technology while delivering cost savings for the enterprise. The company works with a variety of enterprises across multiple industries including finance and energy. Interbit solves the problem of security threats on public blockchains by allowing enterprises to build applications in the Interbit ecosystem.
52-Week Range

Shares Outstanding

USD$4.00 – USD$1.50

23.7 million shares

Total Debt

Debt/Equity

CAD$740,819

0.053

Total Cash
CAD$14.23 million

ROE (TTM)

-112.19%
Public Float
19.62 million
Book Value/Share
0.44
Market Capitalization
CAD$47.78 million
3 mo. Avg. Volume
18,840
Source: BTL Group Corporate Presentation
Interbit was officially released on April 23rd for all users and the company will receive feedback for continued testing. The platform took two years of development and was successfully tested in phase one of their pilot project with Visa Europe. Phase 2 of the project focuses on the energy industry and is still in progress. The goal of phase 2 is to:
"…build the OneOffice application for Interbit to deliver cost savings across the trade life cycle for natural gas. During this Phase, utilizing the multiple blockchain nature of Interbit, the Company has developed a "blockchain per trade" architectural approach to building blockchain solutions for trading partners. Once Phase 2 has been completed, the Company expects to take what it has learned and determine the next steps in a production deployment of the OneOffice application that will address reconciliation and settlement across all industries."
Participants of the project include ENI (NYSE:E), BP (NYSE:BP), and Wien Energie.
Hendrik Kleinsmiede at Visa Europe announced that:
The proof of concept used BTL's interbank settlement platform, Interbit, to explore the ways in which a blockchain-based settlement solution can reduce the friction of domestic and cross border transfers between banks – reducing cost, settlement time, credit risk, and leveraging smart contracts to streamline and automate many of the regulation and compliance requirements of domestic and international transfers."
Source: BTL Group July 17th press release. BTL™ Provides Update on Interbit™ and Operations
Competition
With blockchain being an emerging technology, BTL Group experiences intense competition from a variety of companies. We believe that BTL's top 5 competitors are:
Investing Upside
BTL Group's pilot projects have been a success so far with mega-companies such as BP and Visa (NYSE:V).
The blockchain sector is closely knit and competitive upside is often coupled with valuable partnerships. BTL Group has upside in the Financial Services and Energy industries; their partnerships with Visa and several energy companies is crucial and the company has an early start at being the first publicly-traded company to provide an enterprise-grade blockchain development platform.
BTL's Interbit platform does not use traditional blockchain technology which differentiates themselves from larger competitors.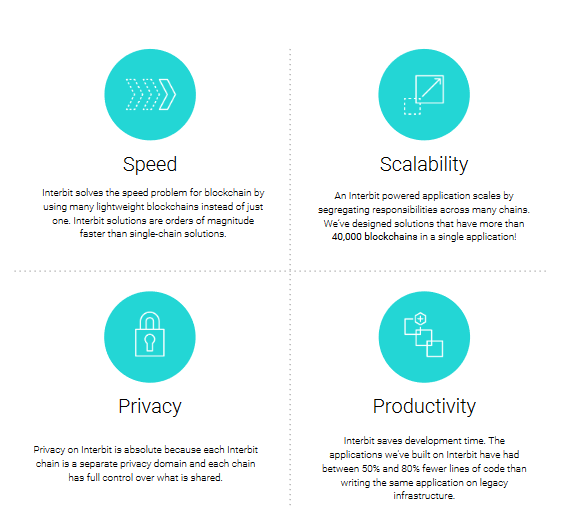 Source: BTL Group Corporate Presentation
Primary Risk
Blockchain still has a close association with criminal activity involving Bitcoin. The underlying technology needs to be differentiated from cryptocurrency to make companies feel compelled in taking advantage of it. BTL Group is a legitimate corporation, not an ICO 'pump-and-dump' scheme.
Risk of companies not accepting blockchain as a necessary technology is a high concern.
Continued equity capital offerings may be necessary to finance growth during emerging phase as revenue milestones may be farther out than anticipated. Ghr Investments Ltd. has sold 99,100 shares of BTL stock since August 3rd and management regularly sells large amounts of stock; CEO Hugh Halford-Thompson has been selling large amounts of stock since this past summer.
Major competitors such as IBM and Microsoft offer similar platforms and have easier accessibility to more clients and partners.
BTL Group Operating Results
BTL Group has no revenue for this year due to their Interbit platform and OneOffice application being incomplete.
No revenue has been reported for 2018, Q1 or Q2, which is concerning with the release of Interbit being on April 23rd. Total assets have decreased 20% to CAD$14,679,966 from the end of 2017 to Q2 2018. 7% of that loss occurred in Q1; if the company continues to go months without any inflow they'll eventually run out of cash, and it's already happening. Assuming a 17% quarterly decrease in cash and a 50% quarterly increase in expenses (historical), the company has roughly 4-5 quarters left until the bank runs dry.
Between 2016 and 2017, cash for the company rose 855% and assets likewise at 801%. The company definitely isn't in danger of bankruptcy, but growth for 2017 was less than stellar. BTL Group's source of revenue in 2017 was solely from consulting fees from their pilot projects. 2017 ended with CAD$372,927 in consulting fees, a 9% decrease from 2016's CAD$410,670. The decrease in revenue from fees is best excused from the pilot projects getting closer to their completion dates and the transition BTL Group is going through to get Interbit completed. Expenses for the company rose 166% and in 2017, saw a comprehensive net loss of CAD$(5,873,570). Net loss for the company increased 203% from 2016. The increase in net loss contributed to the company's basic and diluted net loss per share of CAD$(0.31).
Outlook
BTL Group is continuing to build their Interbit platform. Two major goals lie ahead in 2018. Q3 2018 is expected to introduce marketplace services to support payment processing and billing support. The platform expansion will also lead to mobile services sometime during Q4 of this year according to the company.
Since Q3 2017 to present, operating expenses for the company have increased on average by 23% each quarter due to continued platform expansion and testing. Gross cash burn for BTL is CAD$2,278,433, CAD$2,581.69, and CAD$3,228.63 for Q4 2017, Q1 2018, and Q2 2018 respectively.
For having no revenue, the company has done a decent job at raising and maintaining cash. During 2017, the company had three separate financing events, raising their cash and cash equivalents 611% between Q3 2017 and Q4 2017. Between Q1 2018 and Q2 2018, BTL used 21% of their cash reserves. Now that Interbit has been released to the public, the "big" part has been done. We don't expect their platform expansion to dry up the bank anytime this year. During May 2018, the company announced the grant of stock options to acquire a total of 75,000 common shares of the company at an exercise price of CAD$5.83.
We believe BTL will have sufficient cash for the remainder of 2018 to fund operations.
Valuation Projections
*BTL Group is a Canadian company that trades on the Toronto Venture Exchange (CVE). Our valuation focuses on their OTC security and all figures presented are in USD$.
We use a two-stage growth model and a total addressable market (TAM) methodology in our projected upside valuation for BTL Group. IDC states that global spending in blockchain solutions will reach $1.5 billion in 2018 while PWC estimates that spending will reach USD$2.1 billion by the end of this year. The next 5 years is estimated to see a 73.2% CAGR on global blockchain solutions spending according to IDC and Canada at 86.7%. We use $2.0 billion spending by year end in our model. Management does not provide any guidance on market position; we estimate that BTL Group can attain a 5% market share. We believe this is attainable driven by two factors:
First mover advantage – BTL Group successfully completed phase 1 of their pilot project. Phase 2 to build the OneOffice application has been as a success so far. Companies involved include Visa Europe, BP, and ENI.
BTL's Interbit platform expansion ahead in 2018 – Marketplace and mobile services will become part of the Interbit ecosystem.
Our model uses a high 17% venture-capital equivalent discount rate to account for significant risks noted below.
BTL Group faces competition from Microsoft, IBM, and Amazon Web Services.
The company has no revenue so far in 2018. Phase two of BTL's pilot project is not yet completed.
Blockchain is not widely used or tested by enterprises.
The technology has years of maturing to go through before it is widely accepted.
We assign a 15% net margin for anticipated higher costs during this 5-year period of rapid growth for the blockchain solutions sector and continued development and testing on their Interbit platform. Total shares outstanding for the company is 24 million.
| | |
| --- | --- |
| Projected Blockchain Solutions Spending – End 2018 | USD$2,000,000,000 |
| Estimated BTL Market Share | 5% |
| Projected BTL Revenue | USD$100,000,000 |
| Projected Net Margin | 15% |
| Projected BTL Net Income in 5 Years | USD$15,000,000 |
| Discount Rate 5 Years Back | 17% |
| Total Shares Outstanding | 24,000,000 |
| Projected EPS 18 Months Out | USD$0.28 |
Our projected upside valuation targets include worst-case, industry average, and best-case scenarios. The combination of our projected EPS at $0.28, along with 12x, 16x, and 20x multiples gives us our projected upside valuation at $3.36, $4.48, and $5.60 respectively.
| | | |
| --- | --- | --- |
| Worst Case | Industry Average | Best Case |
| USD$3.36 | USD$4.48 | USD$5.60 |
Of course, anything can happen over the next five years and BTL Group is a much smaller player which entails much higher risks. We believe BTL Group has many attractive elements that could position them to be an important industry player in the future.
Disclosure: I/we have no positions in any stocks mentioned, and no plans to initiate any positions within the next 72 hours.
I wrote this article myself, and it expresses my own opinions. I am not receiving compensation for it (other than from Seeking Alpha). I have no business relationship with any company whose stock is mentioned in this article.